Building your own Bubbadue box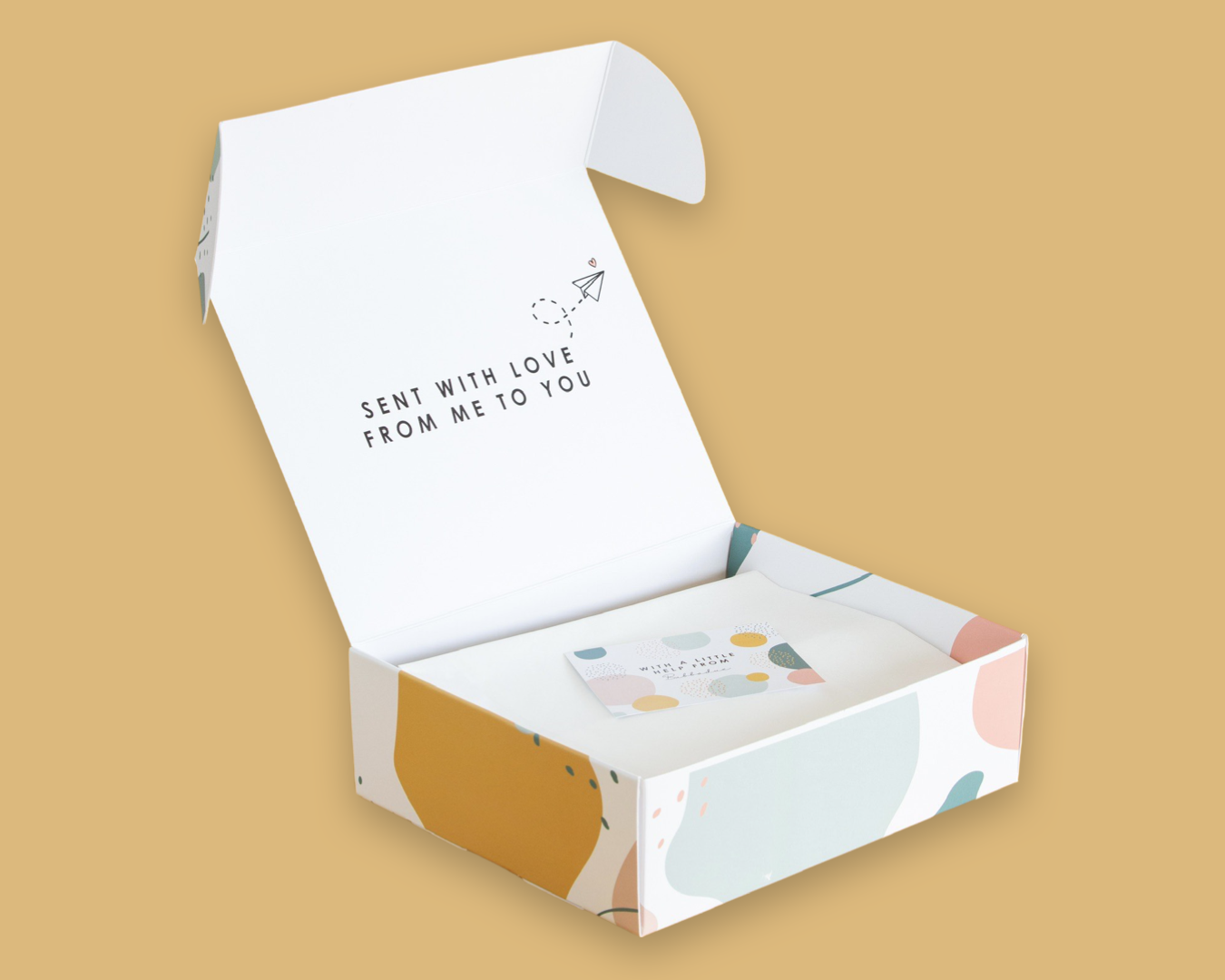 Building your own Bubbadue Box.
The most popular feature on Bubbadue has got to be "Build a Box!" It gives our customers permission to be creative by playing with colours, themes and sometimes even the Giftee's personality. I remember when I had just started Bubbadue, a box was created for a woman with the surname "Fox" ... and her fox inspired box was just the absolute cutest. Not only was it so personal, but so quirky and fun.
Build a box starts with the option to select either our Drawstring Bag, (which is awesome for storing Bubbas goodies inside.) our Petite box, and our absolute favourite ... our Original Bubbadue Box.
You are then given the option of adding a card. There is even an option of leaving the card blank so that you can personally write inside.
Now this is where the fun begins! 1. Drawstring Bag.
If you decide to select the Drawstring Bag Option, I would suggest that you add 2 items into the bag. One large item and one small item / accessory.
For example: A muslin and a Dummy Chain, a Mini Tinki Doll and a BIBS Dummy, a romper and a pair of shoes etc.
This fills the bag beautifully without being overly full or empty. 2. Petite Box.
My favourite items to put inside of a petite box is an item of clothing and and 2 smaller items.
For example, a romper, a bunny teether and a dummy chain. A book, a dummy chain and a dummy. An outfit, a pair of shoes and a scented sachet etc.
3. Original Box.
I always have the same piece of advice for everyone who builds a box... Do NOT overfill your box. In this case we struggle to pack without everything looking squished.
The best boxes always have an outfit, a toy, a blanket and an accessory. The outfit will more than likely go in the centre, the blanket on the right and the toy on the left. Any other small accessories will be placed around the items to make your box look beautiful.
The final step is then to add a scented sachet. (Optional). I find this such an awesome step in personalising your gift. There is something magical about opening a gift box that wafts a beautiful aroma. We find that most people who add a scented sachet have awesome feedback on what an amazing addition it was to the gift.
We love seeing your awesome Build a Boxes!! Feel free to email me if you have any queries about what looks best!
ashley@bubbadue.com. Thanks for reading! Ashley